Supported by the Jack Kent Cooke Foundation, the Young Scholars Senior Summit (YSSS) program will engage students in high-level learning in areas of their interest. (You can read more about the program and the award right here.) The goal is for students to work on authentic research projects with mentors who are experts in their disciplines.
The Renzulli Center for Creativity, Gifted Education, and Talent Development will coordinate the YSSS program by facilitating student placement at "mentorship sites" with faculty around the Storrs campus.  UConn faculty will host YSSS participants in their labs and studios and work with them on projects in shared areas of interest. The YSSS participants will spend 6-7 hours per day at the mentorship site and may complete additional work in the evenings or on the weekends. Students' time at the site would be a balance of developing background knowledge and engaging in inquiry and experiments around new questions.
Participants can assist in running trials of ongoing experiments, recording data, developing interpretations and questions, and engaging in other activities relevant to their particular sites. All students are expected to participate in an end-of-program conference, at which they will give presentations on their work and the expertise they have gained by participating in the program.
YSSS in the News
Following articles were featured:
Neag News: Nov. 21, 2017- Neag School Receives $300K Award to Support Mentor Education
The Courant: Dec. 5, 2017- See above article
Patch.com: Dec. 5, 2017 See above article
UConn Daily Campus: Dec. 6, 2017 - Program allows high school students to pursue academic interests at UConn
The Chronicle: Dec. 22, 2017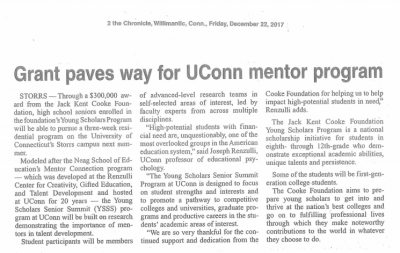 Important Dates
Young Scholars Senior Summit 2020
| | |
| --- | --- |
| Date | Task |
| July 10th | Check-in |
| August 2nd | Check-out |
| | |
Contact Us
Phone:
860-486-4676
E-mail:
lisa.muller@uconn.edu
Address:
Young Scholars Senior Summit Program
2131 Hillside Road
Unit 3007
Storrs, CT 06269-3007
ANNOUNCEMENT
If you received an email like the one below, please ignore it! These email notifications are automatic, which means every scholar will receive one. YOU DO NOT NEED TO MAKE ANY PAYMENT TO UCONN. The YSSS program has already made arrangements to take care of that for you. There is no way to prevent the emails from being sent, so please just ignore this email from the Bursar's Office!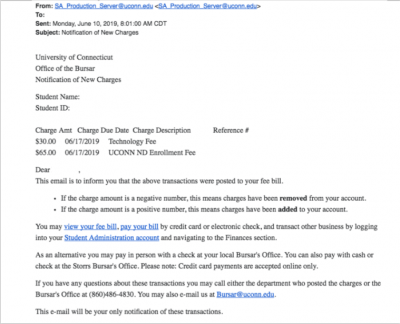 ---Days Till YSSS program starts!